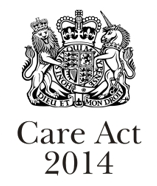 The Care Act

The Care Act 2014 makes it a requirement of Local Authorities to establish a Local Safeguarding Adults Board (LSAB) to help protect adults from abuse by coordinating and ensuring the effectiveness of what each member does. The core members of a LSAB are the Local Authority, the local Police Force, and the local NHS Clinical Commissioning Group, but other agencies are also members of the Board.
Role of a Local Safeguarding Adults Board

The overarching purpose of overseeing arrangements to protect adults from abuse is achieved by:
•assuring itself that local safeguarding arrangements are in place
•assuring itself that safeguarding practice is person-centred and outcome-focused
•working collaboratively to prevent abuse and neglect where possible
•ensuring agencies and individuals give timely and proportionate responses when abuse or neglect have occurred
•assuring itself that safeguarding practice is continuously improving and enhancing the quality of life of adults in its area
The LSAB has three core duties:
•It must publish a strategic plan for each financial year that sets how it will meet its main objective and what the members will do to achieve this.
•It must publish an annual report detailing what the LSAB has done during the year to achieve its main objective and implement its strategic plan.
•It must conduct any Safeguarding Adults Review in accordance with Section 44 of the Care Act
Safeguarding Adult Reviews
The Care Act 2014 stipulates a statutory requirement for LSABs to undertake Safeguarding Adults Reviews (SARs) when:
•An adult with care and support needs in the LSAB area has died or suffered serious harm as a result of abuse or neglect AND
•there is reasonable cause for concern about how the SAB, members of it or other persons with relevant functions worked together to safeguard the adult.
A Safeguarding Adults Review (SAR) is a multi-agency review process which seeks to determine what relevant agencies and individuals involved could have done differently that could have prevented harm or a death from taking place.  The purpose of a SAR is to promote effective learning and improvement, not to apportion blame.
See our Safeguarding Adult Review page for more information.