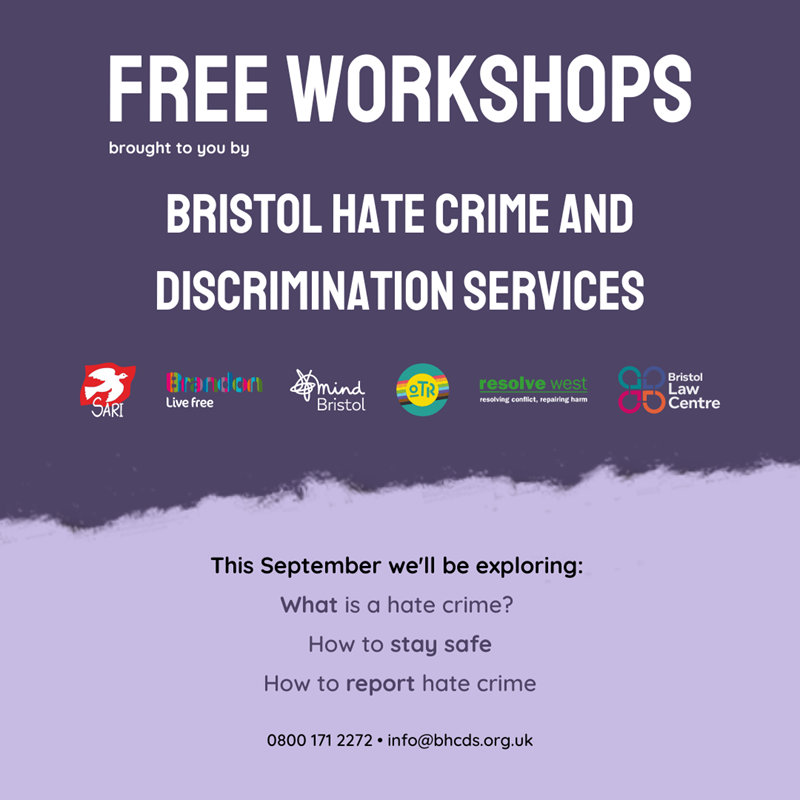 Bristol Hate Crime and Discrimination Services (BHCDS) is your local collaboration of partner agencies, led by SARI, that together are providing hate crime and discrimination services. To find out more, visit the BHCDS website. 

As well as providing a free, person-centred, confidential casework service for victims of hate and discrimination and a Restorative Justice and Conflict Resolution Service for victims and perpetrators of hate crime, we are also funded to provide free workshops for residents and frontline practitioners in Bristol.

These workshops are particularly for those who are at risk of facing hate crime or discrimination so they know their rights, where to turn to and how they can respond more confidently.

The sessions are ideal for staff working in grassroots services such as housing, social work, support work, criminal justice, mental health services as well as local residents who are black and minority ethnic, of faith, disabled or LGBTQ+. They are also relevant for service users of frontline services.
The workshops will be online.

Please see the links below for the available dates, and feel free to choose a date that works for you.

The available dates are:

Wednesday 7th September 2022 – 10am – 12pm.
https://www.eventbrite.co.uk/e/406739919047 


Thursday 15th September 2022 – 10am -12pm
https://www.eventbrite.co.uk/e/406765615907 


Tuesday 20th September 2022 – 10am-12pm
https://www.eventbrite.co.uk/e/406781383067 


Thursday 29th September 2022 – 10am-12pm.
https://www.eventbrite.co.uk/e/406787852417 


If you have any questions, please contact BHCDS directly by email info@bhcds.org.uk or call 0800 171 2272.