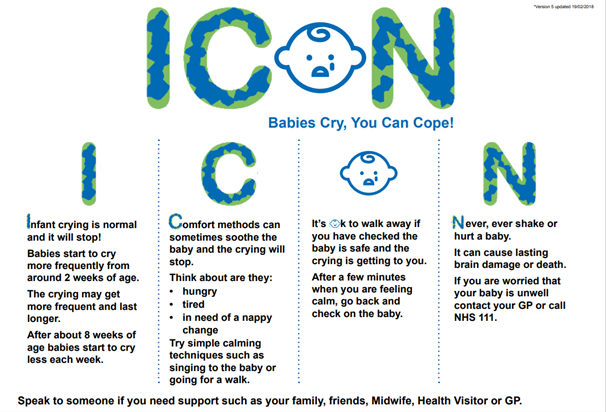 The second annual ICON week is taking place between 26th to 30th September 2022 to raise awareness of infant crying and how to cope to support parents/ carers and prevent serious injury, illness and even death of young babies as a result of Abusive Head Trauma that happens when someone shakes a baby.
The ICON programme aims to prevent Abusive Head Trauma (AHT) in infants by helping parents and carers with young babies to cope with infant crying. This year's ICON Week is focussing on sharing ideas and best practice. More than 15 webinars are taking place throughout the week with speakers from the military, police, primary care, parent ambassadors, health visitors, and the education section.
All webinars will take place over Microsoft Teams and use the same link https://bit.ly/iconweek2022 
Monday 26 September
10am to 11am
Sue Anslow – ICON Programme Manager welcome to ICON Week
Dr Suzanne Smith Founder of ICON – Introduction and background to ICON
11:30am to 12noon
Jill Broadhurst Senior Family Support Worker- ICON in the Early Years' service
2:00pm-3:00pm
Jill Broadhurst Senior Family Support Worker- ICON in the Early Years' service
Tuesday 27 September 
9:30am to 10:00am
Jenny Roddy Public Health Specialist Midwife, Leeds Teaching Hospital NHS Trust – The progress and embedment of the ICON within maternity service in Leeds
10:30am to 11:00am
Sara Waters Health Visitor Team Leader – Health Visitor Delivery of ICON in Manchester
1:00pm-1:30pm
Caroline Campbell Development Health Visitor and colleagues- Health Visitor Delivery of ICON in Staffordshire
4:00pm to 4:30pm
Claire Bainbridge Lead Midwife for Safeguarding- ICON within Safeguarding and next steps in North Cumbria
Wednesday 28 September
10:00-10:30
Dr Bryony Kendall, Named GP for safeguarding, NHS Cheshire and Merseyside – Working with GPs as commissioners to embed ICON
13:30-14:00
GPs – what do you need to know as a primary care clinician?
15.00-15.30
Dr Jamie Carter Consultant Paediatrician -AHT and Legal Complexities
Thursday 29 September
10:30-11:00
Dr Giles Haythornthwaite Consultant Paediatrician: Why the Major trauma network supports ICON
11.30-12noon
Gaynor Lovatt Team Leader Burnley Neonatal Unit – ICON in the Neonatal Unit
15:30-16:00
Beth Williams PSHE Lead Fleetwood High School – Delivering the ICON Message in High School
Friday 30 September
10:45-11:15
Clare Henderson/ICON in the Military – Health Visitor from Cyprus gives an overview
11:30-12:00
Parent Ambassadors talk about ICON
13:00-13:30
Clare Henderson/ ICON in the Military – Health Visitor from Cyprus gives an overview
14:00-14:30
Martin Earl, Detective Superintendent Merseyside Police
15:00
Final thought and close from Dr Suzanne Smith