Upcoming Conferences
KBSP Conference - 6 October 2023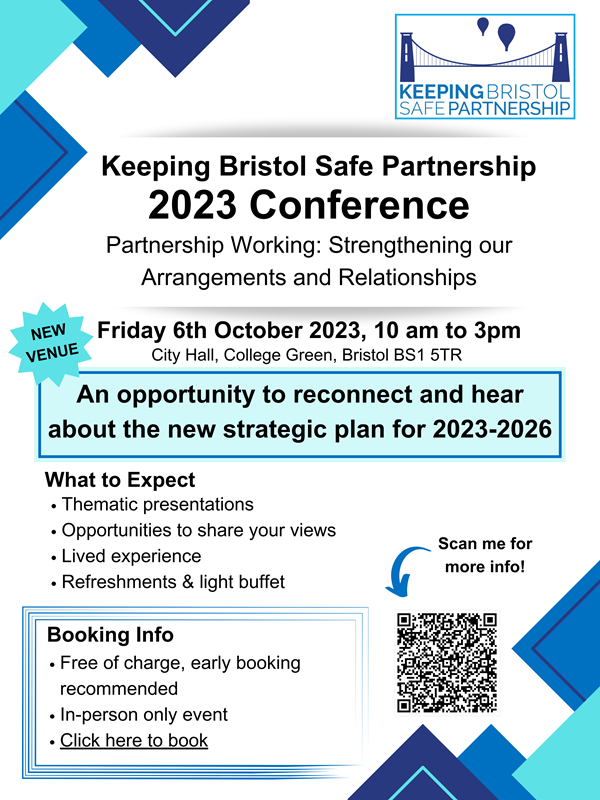 This in-person event is your chance to connect with other professionals from police, health, local authority, probation, fire safety, education, voluntary and community sector. It will also be an opportunity to learn about the new strategic plan for Keeping Bristol Safe 2023 – 2026.
The event is free to attend but you must book a ticket through Eventbrite. Places are limited so early booking is highly recommended.
BOOK HERE: Keeping Bristol Safe Partnership 2023 Conference Tickets, Fri 6 Oct 2023 at 10:00 | Eventbrite
Stop Adult Abuse Week 20-24 November 2023 Safeguarding Yourself and Others

As part of this week long campaign, there will be series of jointly held online workshops that will be free to access for any practitioner working with adults across Somerset, North Somerset, South Gloucestershire, Bristol and Bath & North East Somerset.
Monday 12:00-13:00 - What's My Role in Safeguarding Adults?
Tuesday 12:00-13:00 - Let's Start Talking – Taking the Lead on Safeguarding in Your Organisation
Wednesday 12:00-13:00 - Who Cares for The Carers? Secondary and Vicarious Trauma
Thursday 12:00-13:00 - Adopting a Trauma Informed approach to Safeguarding Adults
Friday 12:00-13:00 - Listen, Learn, Lead – Hearing the Voice of Adults
BOOK HERE: Stop Adult Abuse Week 2023 - Week of Workshops | Eventbrite
Past Conferences