A 2019 evidence review identified four common approaches to preventing and mitigating the impacts of ACEs and trauma:
Supporting parenting
Building relationships and resilience
Early identification of adversity
Responding to trauma and specific ACEs
The report provides details on the common components, interventions and settings within each of these.
The research suggests these strands of work need to be supported by ongoing awareness raising of the causes and consequences of ACEs and trauma. This applies across the workforce and is not limited to specialist professional groups.  
What we can all do:
Hold in mind that a person's behaviour or reactions might be related to childhood adversity.
To make sense of a child/young person's current difficulties by considering "what happened to you?" instead of "what's wrong with you?" And go on to ask, "how has this affected you?" and "who is there to support you?"
Use protective factors to build resilience e.g. secure attachment, opportunities for positive activities and supportive networks.
Continue to raise awareness
Whilst concerted efforts are also needed to reduce exposure to ACEs and trauma, strengthening resilience in children and adults is important to protect against the impact of ACEs through the life course.
The role of resilience as a protective factor to mitigate the impact of ACEs is increasingly evident. Recent studies have shown that resilience resources in childhood and adulthood can moderate the negative outcomes associated with ACEs and show protective effects on mental ill health, childhood health and educational attendance.
Childhood resilience resources which help prevent the negative impact of ACEs include having a stable trusted relationship with an adult, participating in sport clubs and strengthening social and emotional competency (protective skills).
Sources of resilience amongst adults shown to be important mitigating factors include regular participation in community activities and perceived financial security.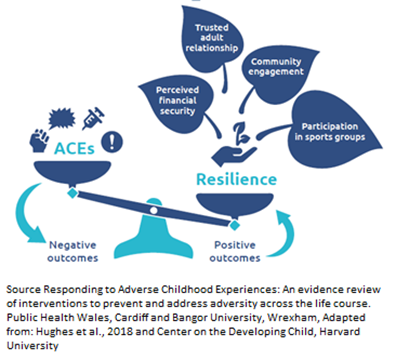 It is important to ensure that service responses do no re-traumatise individuals; that service providers identify and address the barriers that those affected by trauma can experience when accessing the care, support and treatment they require for a healthy life. It is important that we recognise that trauma is common and understand that these experiences might have a range of impacts.
All organisations can work towards being trauma informed by ensuring that physical environments, staff behaviour and organisational policies and procedures reflect trauma-informed-principles and values. Organisations also need to consider and respond to the needs of workers in responding to people affected by trauma.

Whilst a number of evidence-based interventions target specific types of adversity (e.g. domestic violence), we know that ACEs are strongly correlated; individuals exposed to adversity are often exposed to more than one type. This means adversity requires a whole system approach which extends across sectors including health, social care, policing, education, housing and community, and across the life course from early childhood through to adulthood.
There remain gaps in evidence and understanding in relation to effective multi-sectoral responses to ACEs (as a collective group of childhood stressors) rather than responding to individual ACE types, to break the intergenerational cycle of ACEs.
For further information and links to the research studies referred to in this section, see: Responding to Adverse Childhood Experiences: An evidence review of interventions to prevent and address adversity across the life course. Public Health Wales, Cardiff and Bangor University, Wrexham
You can also read more about evidence based approaches to addressing ACEs in this report: Adverse childhood experiences: What we know, what we don't know, and what should happen next, Early Intervention Foundation, 26 February 2020
We set out our ambition to work towards being a trauma informed city in the Bristol One City Plan. We aim to be a city where we can disrupt the intergenerational cycle by preventing ACEs in our young people and strengthening resilience in individuals, families and communities, leading to better life outcomes.
Find out more about the Bristol One City Plan.
A series of local task and finish group meetings were held to develop our local approach to this work.  This included over 40 different partner organisations and led to the agreement of the following approach:
Prevent ACEs in future generations

including breaking the cycle within families
support and build resilience in communities, families and children who are at risk of exposure to ACEs

Recognise the signs and symptoms of ACEs to enable appropriate early intervention
Recognise the impacts of ACEs already experienced in children and adults and help them to receive support
Our Principles: Strengths based, evidence informed and sustainable.
A report produced through the Task and Finish Group is available here.
The strongest criticism of the ACE lens relates to the practice of summing the number of ACEs experienced to determine an ACE 'score', and the misapplication of this 'ACE framework'. Locally our approach does not promote screening in this way or service models where we 'count ACEs'. Our emphasis is on understanding the life-course impacts of childhood adversity on children, adults and the wider community.
Collectively, we want professionals who work with children and families, and vulnerable adults to have a better understanding of the root causes of presenting behaviours, rather than "treating" the presenting behaviour, and to have a better understanding of people's lived experience.
We have established an 'Adverse Childhood Experiences Health Integration Team' to bring multi-disciplinary partners together to develop our local approach and drive culture change and practice. This is a collaboration across Bristol, North Somerset and South Gloucestershire. It engages partners across the voluntary and community sector, the BNSSG Clinical Commissioning Group and health care providers, Avon and Somerset Police, Education, the University of Bristol and the University of the West of England, Children and Family Services, Public Health, and Adult Social Care.
You can read more about the Health Integration Team model here
 This local partnership will be:
raising awareness and understanding of adversity in childhood
contributing to the developing evidence base on childhood adversity and trauma
developing policy and practice approaches to prevent trauma and mitigate the impacts
building a 'case for change' which will set out how we can work differently together so that we can prevent childhood adversity and improve health and wellbeing.
There are three active work streams within this partnership that cover Bristol, North Somerset and South Gloucestershire:
Knowledge and Skills
Research and Evaluation
Strategic Planning and Commissioning
Bristol also has an Education workstream which is brings together partners across early years settings, schools and academies.  This group works in partnership with the Local KBSP Education Reference Group to implement strategic changes in safeguarding practice across the Education Workforce.
We are working with children and young people, parents and carers, and local communities to develop our work at steering group level as well as in the workstreams and through individual projects.
More Information: Bristol Health Partners: Health Integration Teams
The Trauma Subgroup of the Bristol, North Somerset and South Gloucestershire Mental Health Partnership have led work on a Knowledge and Skills Framework for Trauma Informed Practice. The Knowledge and Skills Framework lays out the essential knowledge and skills needed by all tiers of the workforce. This framework describes the knowledge and skills required by individual workers and their organisations to become adversity and trauma informed, to recognise the potential long-term impacts of these experience on themselves, on the individuals, families and communities with whom they work and to respond in compassionate and timely ways that help to support recovery and prevent further harm.
The framework also aims to support managers and supervisors to recognise the educational, emotional and practical support required for their workforce to become adversity and trauma informed as the workforce itself is not exempt from the impact of adversity and trauma.
Every member of the workforce has a part to play in ensuring that organisations are adversity and trauma informed. We hope that training in adversity and trauma awareness will create a shared understanding, language and value system across different teams and organisations. While the whole system needs to become adversity and trauma informed, the specific knowledge and skills required varies depending on an individual's role.
The framework is accompanied by an implementation toolkit. These documents will be updated based on feedback and our ongoing learning. Please send any feedback to ACEHIT@bristolhealthpartners.co.uk 
A set of principles for Trauma Informed Practice have also been developed and are being embedded in policy and practice across the area.

The framework, toolkit and principles are available here:
Trauma-Informed System Knowledge and Skills Framework Implementation Toolkit
Principles for Trauma Informed Practice
Trauma-Informed System Knowledge and Skills Framework
Towards an ACE Aware Bristol
Building on work initiated in South Gloucestershire, Bristol is developing a network of ACE Ambassadors who are championing culture change and helping to embed new ways of working in their workplaces and communities.
Bristol now has almost 100 trained ACE Ambassadors across different organisations including social care, police, health, education and voluntary sector organisations. These Ambassadors are able to deliver ACE Awareness briefings. If you would like to join this network or link with an Ambassador please do get in touch at ACE@Bristol.gov.uk.
The Keeping Bristol Safe Partnership also offers relevant learning opportunities, visit the KBSP Training page to download the training programme.
Further Information
Our local Knowledge and Skills Framework was developed with thanks to NHS Scotland Transforming Psychological Trauma Framework and the Welsh support hubs skills and knowledge framework:
Transforming Psychological Trauma: A Knowledge and Skills Framework for Scotland
Researchers and practitioners are working together to build the evidence base around childhood adversity and trauma, and to harness the best research, innovation, care and education to make a difference to people's health and wellbeing.
We are working together with the University of Bristol and the University of the West of England, and are developing a programme of work with our local National Institute for Health Research (NIHR) Applied Research Collaborative (ARC West). ARC West is prioritising work in this area within their Healthier Childhoods Research Theme.
Details of Healthier Childhoods research projects will be available here.
The ACE Health Integration Team and ARC West are committed to involving children and young people, family members and other members of the public in our research to support evidence-based improvements. You can read more about this work here.
The impact and relevance of ACEs and trauma is being considered in the development of all local strategies, plans and relevant transformation programmes, ensuring the risks associated with exposure to adversity are recognised and understood.
We are taking a 'life-course' approach and looking across the system to identify gaps in provision at particular points along the life course and in system integration, across for example, social care, education, health, policing, housing, city planning and the inclusive growth agenda.
We will be developing guidance and tools to enable commissioners to embed trauma informed practice through commissioning. This will include trauma informed commissioning guidance for policy makers and commissioners, with sample tender paperwork and policy standards which promote core competencies around trauma informed practice within our contractual frameworks and expectations with regard to staff training for example.
Education leaders and partners across school communities are working together to develop an evidence based approach for effective ACE and trauma informed practice in education settings in Bristol, in line with their statutory safeguarding duties.
We are actively working to develop safeguarding practice with a view to increasing understanding of the impacts of trauma and adversity across the education workforce and school communities. Guidance and resources will be made available to help embed trauma informed practice in education settings, within the context of multi –agency working arrangements.
The Education Workstream are currently:
Building a network of trained ACE Ambassadors who are championing trauma informed practice across the system. Over 60 Ambassadors have already been trained.
Developing evidence based guidance for schools to promote relationship based behaviour policies
Piloting the effectiveness of staff in schools undertaking a diploma in Trauma Informed Schools
Working with pupils and parents and carers to develop resources and find the best ways to engage whole school communities in awareness raising activity
Developing pilots within settings and testing resources
Expanding and refining safeguarding practices that already exist in education settings.
Some school based resources are available in the Support and Resources section. Additional resources will be made available on this page in due course. If you would like to help develop and test resources or if you have good practice to share please contact ACE@Bristol.gov.uk
Support and Resources
This section will be updated with resources as local work progresses.
Meeting the needs of people who have experienced ACEs and trauma is not always about providing or referring to an additional service, for many it is about a way of working and practitioners understanding the impact of adversity and responding appropriately. The Keeping Bristol Safe Partnership (KBSP) offers a range of learning opportunities. Visit the KBSP Training page to download the KBSP Inter-agency Training Programme.
Additional guidance and training opportunities are also available for the Education sector, access these at the Safeguarding in Education webpage.
The following resources and links signpost to organisations that are able to offer advice and support but you should make a referral to First Response if you have concerns that a child is being abused or neglected, or if you want to request support on behalf of a child or family. More information on how to do this is available here: First Response
This leaflet signposts to a number of organisations that are able to offer support to individuals who are affected by ACEs and Trauma.
Supporting parenting and building resilience in parents can help prevent and mitigate the impacts of ACEs.  Information about parenting courses, advice and support in Bristol is available here.
Research suggests that sports participation has a strong impact on resilience. You can find out about leisure centres and sports facilities here.
Bristol Educational Psychology Service offer a range of interventions that focus on developing key resilience factors such as trusting adult relationships, developing social and emotional skills and wellbeing strategies. Each school in Bristol has a link Educational Psychologist with whom they negotiate a contract of work for each academic year. As part of this contract of work, the following interventions are available. For more information about how to access this support please visit the Trading with Schools website.
Staff training and supervision
Acceptance and Commitment Therapy (ACT) for staff wellbeing. This is delivered by ACT trained Educational Psychologists (EPs).  Typically, the program is delivered in groups of 6-20 school staff over four weekly sessions of 2.5 hours duration each.  Participation should be voluntary but the program, which consists of a wide range of experiential activities such as values clarification exercises, mindfulness exercises and psycho-education, has a strong evidence base for improving general wellbeing and reducing work-related burnout.  Individual, ACT-based coaching sessions for head teachers and other schools leaders can also be accessed.  Typically, this would initially consist of a series of six weekly sessions.
Emotional Literacy Support Assistant (ELSA) training and supervision - a school-based intervention to build on children's social and emotional skills, further information is available here.
Restorative Approaches in Schools (RAiS) – training and supervision for school staff, further information is available here. This is a systems-wide program of change, designed to put relationships at the fore of behavior policy development and practice and to empower all members of a school community to have a voice in shaping their community, including responses to conflict and conflict resolution.  This program of support can be delivered by Educational Psychologists (EPs) and would consist of at least three training inputs over the first year and termly supervision for the school's RAiS lead by the EP.
Group work
Therapeutic Storywriting – a group based intervention aimed at children aged 7-13 years to build emotional literacy skills through story writing. Further information is available here.
Prosocial – a group based intervention to increase co-operation, effectiveness and a sense of belonging and trust. Prosocial uses the Core Design Principles (CDPs) developed by Nobel Prize winner Elinor Ostrom and Acceptance and Commitment Therapy to build effective and cooperative groups with increased psychological wellbeing.  Groups with these skills are more likely to be able to meet the needs of staff, families and young people who have experienced ACE's.  Groups can vary in size and function for example classes, management or faculty.  EPs work with the group for typically 3 two hour sessions using a range of psychological approaches including the ACT Matrix.  For more information please watch this film.
Individual work
Video Interaction Guidance (VIG) – an intervention that focuses on building positive communication in relationships between a child and a key adult (e.g. a parent/carer or key worker in school or nursery). There is a particularly strong evidence base for use in the early years* but it is suitable for pupils of all ages. For more information available here.
DNA-V. As noted above. The Educational Psychology Team offer ACT based interventions for school staff.  DNA-V is the youth version of the ACT model.  A brief clip can explaining DNA-V can be found here  and further information is available here.  The EP Team offer individual therapeutic interventions for students struggling with their mental health.  The team also offer DNA-V based small group interventions for students about whom there are less severe mental health concerns, for example in supporting students in managing exam stress and anxiety.
Safeguarding within settings
The Safeguarding in Education Team are a dedicated resource to support education settings around their policies, procedures and practice in promoting the safety and wellbeing of children and young people in Bristol.  This will support with the early identification of harm and supports the education system to respond to limit the negative impact of ACES on affected individuals. Support includes training, setting reviews, and support fulfilling statutory functions. To find out more please click here
Empathy vs Sympathy, Brené Brown, 2013 (3 minute video)
In this beautifully animated RSA Short, Dr Brené Brown reminds us that we can only create a genuine empathic connection if we are brave enough to really get in touch with our own fragilities. This video explains the difference between empathy and sympathy well and is also a nice reminder for us about how to choose our words.
E-learning: Introduction to Adverse Childhood Experiences
A free online course, funded by the Home Office Early Intervention Fund, for practitioners, professionals and volunteers who work with children, young people and their families. It will take approximately 50 minutes to complete.
How Childhood Trauma Affects Health Across a Lifetime (16 minute video)
A TED MED Talk by Nadine Burke Harris from 2014.
'Resilience: The Biology of Stress and the Science of Hope' (1 hour documentary)

An inspiring and informative one hour documentary made by KPJR Films (2016) on the effects of ACEs and how to overcome them. To screen the film in your organisation or with a local network or partnership please contact:  ACE@bristol.gov.uk - Currently unavailable
Adverse Childhood Experiences, Public Health Wales Awareness Raising Film (6 minute video)

This short animated film has been developed to raise awareness of ACEs, their potential to damage health across the life course and the roles that different agencies can play in preventing ACEs and supporting those affected by them. The film has been produced for Public Health Wales and Blackburn with Darwen Local Authority. Further information available here.
Toxic Stress Derails Development, Center on the Developing Child at Harvard University, 2011 (2 minute video)
Learning how to cope with adversity is an important part of healthy development. While moderate, short-lived stress responses in the body can promote growth, toxic stress is the strong, unrelieved activation of the body's stress management system in the absence of protective adult support. Without caring adults to buffer children, the unrelenting stress caused by extreme poverty, neglect, abuse, or severe maternal depression can weaken the architecture of the developing brain, with long-term consequences for learning, behavior, and both physical and mental health.

This video is part three of a three-part series titled "Three Core Concepts in Early Development" from the Center and the National Scientific Council on the Developing Child. All available in the link.
Adverse Childhood Experiences (ACEs): Impact on brain, body and behaviour (6 minute video)
This video explores what we know about how trauma and exposure to unhealthy levels of stress hormones (e.g. cortisol and adrenaline), can adversely affect the structure and functioning of a child's developing brain
What is Trauma? (10 minute video)
A video created in Avon & Wiltshire Partnership Mental Health Trust which gives an overview of trauma including the differences between single-event and complex trauma.
Trauma and the Brain (9 minute video)
An animated video created by NHS Lanarkshire and partners which shows two police detectives interviewing a young lady who is reporting rape, and how they learn to take a trauma-informed approach to interviews once they have attended trauma training. Shows the impact of trauma on the brain, particularly on memory.
Fight or Flight basics (4 minute video)
A short animation showing how primeval people used the fight or flight responses for survival, but how the automatic response may at times be unhelpful in the modern world.
Fight Flight or Freeze Response (3 minute video)
A short animation explaining the human responses of fight, flight or freeze which are used for survival, and the physical sensations felt in the body.
The Three Main Parts of the Brain (3 minute video)
An animated video by Dr Russ Harris which demonstrates a simple way to explain the three main components of the brain and their functions.
Evolution of the Human Mind (3.5 minute video)
An animated video by Dr Russ Harris which explains how survival skills which were once essential for survival can be less helpful in the modern world. The video shows that difficult thoughts and feelings are part of normal human responses.
The Brain and Trauma (5.5 minute video)
An animated video by Dr Russ Harris which describes what happens in the brain during trauma. The video uses four metaphors to explain brain function: the Data Analyst, Emergency Alarm, Security Guard and Mission Control.
Understanding Trauma: Learning Brain vs Survival Brain (5 minute video)
A video explain the impact of trauma on the brain, specifically that it can become 'stuck' in survival mode which makes it more challenging to learn and remember new information.
The Flop Response for Survival (30 second video)
This video shows an animal using the automatic 'flop' response to survive an attack.
Child Development and Childhood Trauma, Trauma and the Window of Tolerance (7 minute video)
An animation showing the impact of trauma on a child's 'window of tolerance' of emotions, and the importance of widening the window.
Attachment Theory: How Childhood Affects Life (7.5 minute video)
An overview of attachment theory including the different attachment styles.
What survival looks like in school, Inner World Work (Booklet)
Handouts for teachers or trusted adults at school/college to help understand what survival states look like in the school/college environment and what they can do to help ground them and subsequently improve their learning
What Survival looks like at Home, Inner World Work and Beacon House (Booklet)
A booklet that describes four different 'survival' states people can respond with, what they look like and how people around them can help
School Survivors (5 minute video)
What does School feel like for children and teens living with trauma pain? This video is a collation of some of their voices and why Schools urgently need training and support to become trauma and attachment aware environments. Made by parents of children with trauma. Relevant even if you don't work in a school: consider these examples to think about possible triggers in your working environment or in your working pattern.
Safe Hands Thinking Minds (website)

Dr Karen Treisman with Safe Hands and Thinking Minds Associates draw on a range of interdisciplinary expertise, theoretical perspectives, and evidence bases to promote, solidify, and develop high standards in areas of parenting, trauma, adversity (ACE's), attachment, fostering, adoption, asylum-seeking & refugee young people, and culturally/adversity/trauma-informed and trauma-responsive organisations. The website signposts to an array of useful content, podcasts, resources, reading and links in the areas of trauma, toxic stress, attachment, foster care, adoption, and parenting.
Beacon House develops freely available resources about trauma and adversity. Resources include this Comic Strip illustration of how a shift from traditional language to trauma informed descriptions of vulnerable individuals can create compassion instead of blame, hope instead of hopelessness and connection rather than disconnection.
North Somerset: Trauma Informed Practice (43 minute video) A film made locally about trauma informed practice. Click on the link to download the MP4 file.
Additional videos for Psychoeducation and skills have been compiled here, collated by Sally McGuire, Clinical Psychologist
The Bristol City Council website includes information about where to find guidance for staying physically and mentally well during coronavirus (COVID-19)
Young Minds: Advice for parents and carers- talking to children and young people about coronavirus
Safe Hands Thinking Minds: Resources for supporting children and young people with worry and fear: Tips, tools and resources
Beacon House: Covid-19 support resources
Covibook: an interactive resource designed to support and reassure children aged 7 and under, designed to help children explain and draw the emotions that they might be experiencing (different languages)
Carers UK: Guidance for carers
Child Bereavement UK: Help for children and young people, parents and families to rebuild their lives when a child grieves or when a child dies
Winston's wish: Information, advice and guidance on supporting bereaved children and young people during the coronavirus outbreak. Free phone number for children 08088 020 21 plus online information
Contact
For any enquiries relating to Bristol work on ACEs and trauma informed practice please contact ACE@Bristol.gov.uk